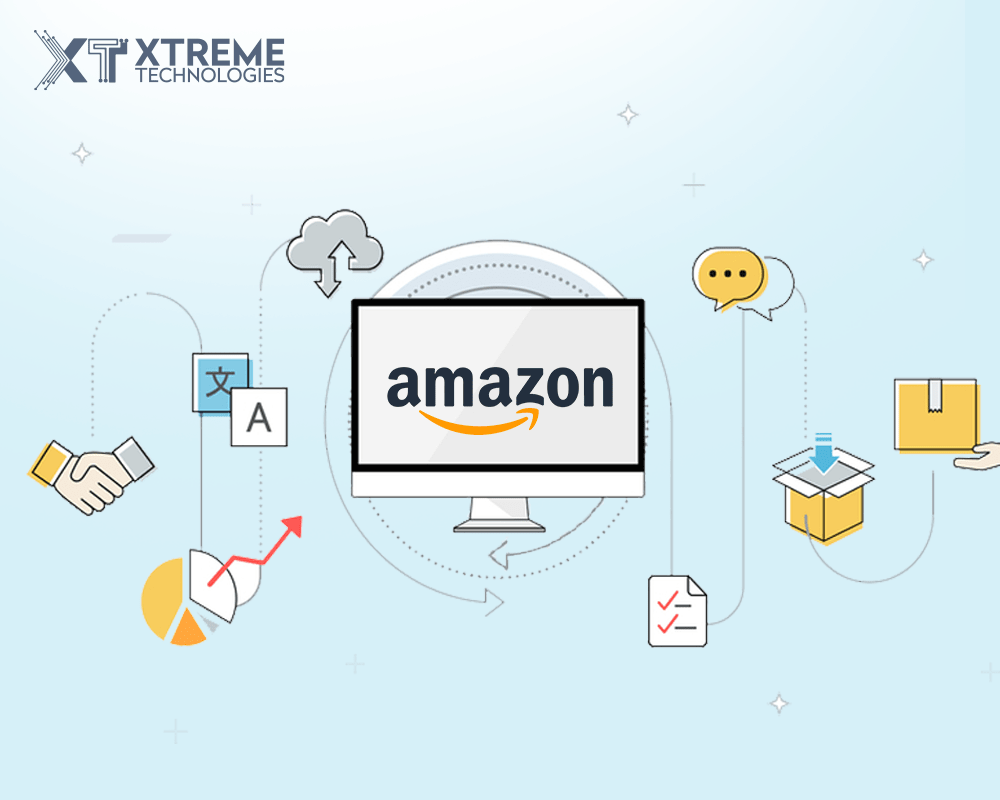 Top 8 Amazon Marketing Statistics You Need to Know in 2021
Published on: September 13, 2021
So How Did Amazon Started?
The first thing amazon sold was a book back in 1995, and now it is known as the largest retailer online store. Amazon was launched in 1994, and within 30 days of its first sale, it was selling books in 45 different countries. So if you talk about online shopping, Amazon is the synonym.
Twenty-seven years after the launch, it is the biggest retailer of almost every product around the world. No online seller can afford to ignore Amazon. More than a total of 197 million people get to Amazon.com. Without slowing down, amazing have reached to be the leader of online sales.
As of 2018, the Amazon e-commerce market in the US was 49%. To sum it up, it was more than the percentage even after combining all three competitors of Amazon, i.e., eBay, Apple, and Walmart. So every seller is in the race of how to grow bigger with Amazon?
Amazon continues to grow with its new acquisitions, developing products and services that enhance its customer traffic. But, as you all know, information is the key to success. Research helps to understand the good and the bad in a business. It also helps us look into such key points which improve our business and boost sales. Therefore, Xtreme Technologies – Digital Marketing Agency has done fantastic research of the most unique and relevant amazon marketing Statistics 2021 for Amazon.
Impressive Amazon Marketing Statistics
Statista tells us that Amazon has over 2.7 billion desktop and mobile combined visitors globally in June 2021.
About 57.09% of traffic on Amazon is direct. People visit directly to the Amazon website for product searches.
Amazon has nearly 2 million active sellers. Moreover, almost 6 lakh new sellers joined Amazon by December 2020.
The net income of Amazon increased to $8.1 billion in the first quarter of 2021.
Eighty-nine percent of consumers are more interested in purchasing from Amazon than any other eCommerce website.

Amazon Key Statistics for 2021
Amazon seems to have something for everyone. Due to its wide range of shopping possibilities, customers turn to Amazon for anything. Whether it be home groceries or a gadget, you name it, and Amazon has it. Nevertheless, it has broadened its target market to fulfill the needs of as many customers as it can.
Let's dig into the statistics. First, one must know if they want to grow their already existing amazon business or plan to have a new startup.
Young people (18-24) make more frequent purchases than individuals aged 50 and older.
Statistics 2021 show that younger individuals are more likely to purchase on Amazon, resulting from the young generation being tech-savvy and leaning towards convenience compared to older people who rely mainly on 'traditional' shopping.
In light of this, businesses running marketing campaigns can decide their strategies accordingly by targeting a younger demographic, which will bring more sales and profits to the company.
Users cite timely and cost-free shipping as the main reason they shop on Amazon.
What's better than ordering something from an eCommerce website without having to pay additional shipping charges and receiving your package within the next day or even just a few hours? The privilege of being able to buy groceries or gadgets with just a touch and getting it delivered within a day without having to go through the hassle of going to a store is what keeps Amazon customers coming back for more and more purchases.
Business owners must realize that time and cost-free shipping is an excellent motivator for people looking to take the assistance of eCommerce websites to get their shopping done. In addition, it is a significant contributing factor in the ever-increasing sales and profits of Amazon.
Amazon's flying company, Amazon Air, makes numerous flights per day to deliver to their customers on time.
Amazon uses its flight company to timely deliver their customers on time and satisfy consumer needs by providing same day, next day, or two days delivery after the order is placed. This fast delivery motivates customers to keep choosing Amazon as their eCommerce partner in shopping.
Amazon has more than 70 aircraft in its fleet, which operates more than 140 flights in a day for shipment. Nevertheless, Amazon delivers most of its deliveries on time. However, some orders show up crossing the estimated time provided.
2021 Amazong Marketing Statistics show that after the Covid 19 lockdown, more people brought their groceries from Amazon more than ever.
As the Covid-19 pandemic hit the world and lockdown kept everyone home. Online shopping from the comfort of your house has become the new normal for the world. Increased online shopping resulted in a higher number of scams. But amazon maintained its standard by giving the best to its clients. Lockdown had a significant effect on the increasing number of buyers at Amazon.
Since going out was not an option, more than 33 percent of shoppers bought their groceries from Amazon than they did before. This shows that many people chose Amazon as their reliable source for everyday staples and signifies that Amazon is the new normal for shopping, whether it be grocery or gadget shopping.
A little less than half of Amazon sellers reported that their business thrived during the pandemic.
While numerous businesses went bankrupt due to the pandemic, Amazon sellers reported that their sales increased more than ever. This shows that even in unprecedented times where markets worldwide faced a downfall, Amazon thrived. This is incredibly encouraging for eCommerce stores, proving that even when the whole market is down, online stores can still stay afloat and have increased sales, which is to say, increased profits.
Amazon offers businesses an advertising platform as a way to gain more revenues.
Businesses can post ads for their products on Amazon's store as a marketing strategy. This has proven to increase sales and improve their market share. A study showed that more than 80 percent of businesses chose Amazon to advertise their products and gained a profit return.
It shows that consumers frequently visit Amazon and that ads are a great way to reach your goal, especially if they are on a frequent surf platform by the general public.
Customers trust Amazon.
Over the years, Amazon has managed to gain its consumers' trust. According to a survey, over 80 percent of people looking to shop from eCommerce websites chose Amazon. Amazon provides a consistent and reliable option for online shoppers, which is why they frequently choose Amazon. As a result, Amazon has become a center for eCommerce shopping all around the globe.
This shows that gaining customer trust is an essential step to eCommerce as it isn't conventional shopping. Instead, shoppers need to know precisely what they are getting into. Therefore, shopping from a reliable, trusted website that has proven time and time again that they do not fail to deliver to customers' needs and demands is the option they choose.
Customers choose Amazon to shop for electronics more than any other type of product.
Out of all the products, Amazon users buy electronics more than anything else available on the website. The US survey showed that more than 44 percent of users bought electronics via Amazon.
Amazon is constantly broadening its services and the types of products it offers, which means it targets a larger market of consumers. The diverse range of products sold on Amazon highlight it amongst other eCommerce stores. According to amazon marketing statistics, It gave it a more extensive market reach, increasing its popularity and growing sales and profits generated.
Key motivating factors for people choosing Amazon.
By now, we have established that Amazon is the most trusted eCommerce website customer's go-to for shopping. Now, we will dive into the key factors that keep customers coming back to Amazon for their online shopping experience.
Eighty-two percent of Amazon buyers stated that price is a significant factor when purchasing the eCommerce platform. What follows is low or no shipping costs and reviews left by other customers of the product. In addition, quick shopping paired with a flexible return policy is both important factors when consumers consider Amazon for their online shopping.
What Should We Conclude From These Amazon Marketing Statistics?
To conclude, Amazon has used some very wise marketing strategies to boom to the top and become the brand name for online shopping all around the globe, although it has been in the market for less than three decades. As a result, the company has managed to gain customer trust and offer various products for all types of consumers.
With thousands of sellers and hundreds of thousands of customers, it is one of the most successful businesses out there. However, many business owners can learn from Amazon's strategies before taking their business to the market or increasing sales in an already existing venture.
From selling books to selling products ranging from furniture, clothing, electronics, hardware, jewelry, and whatnot. Amazon has traveled a long way since it got started from its garage, all thanks to the marketing strategies used by Jeff Bezos, the founder and CEO of the eCommerce platform.
Author Bio
Alice is an experienced SEO manager; she helps optimizing copy and landing pages for several brands. Alice's previous experience with various Dallas Local SEO Services providers, is a plus point for her. She is well-versed in the research and implementation of content recommendations for successful organic reach.
Tags In