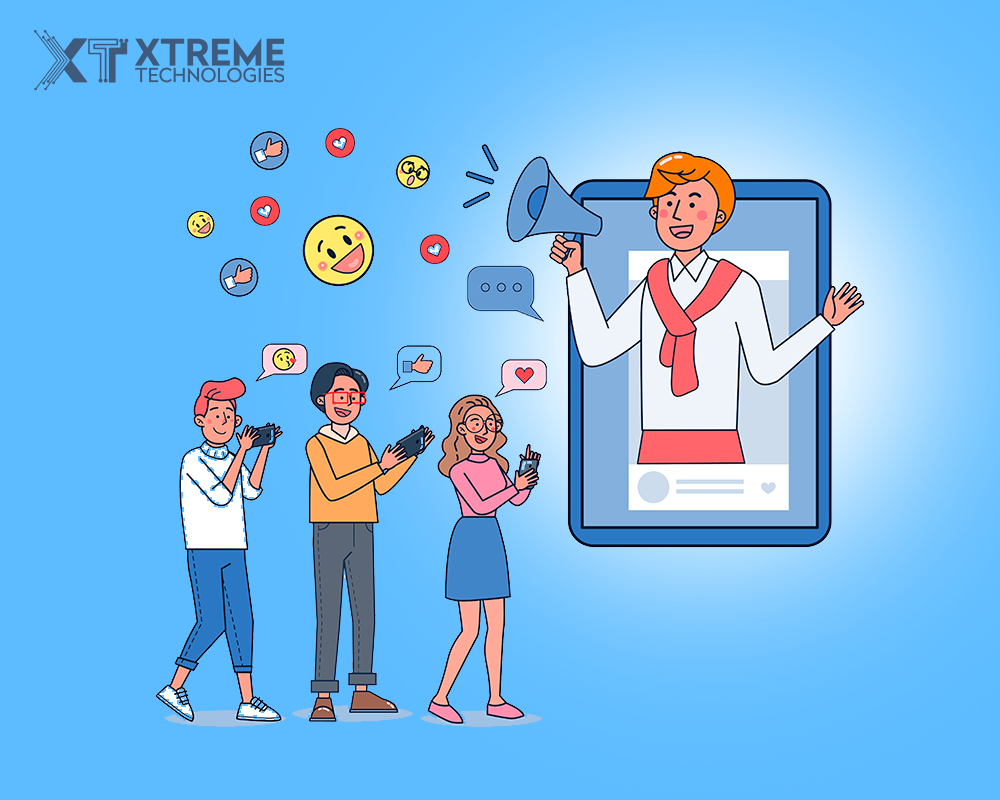 How to Use Video Content to Enhance Your Social Media Marketing
Published on: June 09, 2021
It's no top secret that video content is a game-changing strategy. Do you want to maximize social media engagement? Are you thinking about generating impressions and traffic? Video content should be your priority. Compelling videos will eventually yield results with lead generation and sales.
Here are some of the exciting statistics regarding online videos.
By 2022, online videos will deliver more than 82% internet traffic — 15 times what it was in 2017.
According to 90% of customers, video helps them in making buying decisions.
64% of customers say that seeing a video makes them more likely to buy.
Videos in email marketing can enhance click-through rates by 200-300%.
Aren't these statistics compelling? Now you know that video is the future. Creating quality video content will take your brand to the next level.
So are you planning to incorporate videos into your next social media marketing plan? Let's have a look at these fantastic tips.
1) Create Short And Instructional Videos
Are you looking for an easy way to promote your brand? Do you want to advertise on your website? A short and quick instructional video is the key. Shorten the video content to the basic steps of your product or service. Utilize video editing apps to speed it up. Speeding it up will make your video fit within 30 seconds.
This highlights your product or service. You can get a chance to provide a fun and engaging way to interact with customers. Did you know that videos are the most engaging form of content? Therefore, the ROI is much more potent than a single picture.
2) Use Videos For Customer Support
Customer support is an essential aspect of your brand management. Are your customers asking a lot of questions? Are you looking for ways to answer their queries? Using videos for customer concerns will allow you to provide detailed information to them. However, it's one of the effective ways of humanizing your brand.
We would recommend you include a how-to or an FAQ video. These videos will help customers with troubleshooting. Moreover, it provides a fun and engaging way to solve customers' queries. So what are you waiting for? Start using videos for customer support.
3) Grab Attention
Do you want your customers to stick around? It's essential to capture your audience's attention within the first few seconds of your video. But how is it possible? Capturing the viewer's interest within the first 10 seconds is challenging. Isn't it? Your video marketing content should be concise and get right to the point. You have six to ten seconds to capture the customer's interest. Within the first few seconds, your video tells viewers about your offers and products.
Hooks are a crucial part of capturing interest because they explain why viewers should care or be interested. It would be best if you placed hooks within the first or second frame of your video before users get a chance to scroll away.
4) Create How-to Videos
How-to videos are viral across all social media platforms. Be it the recipe of making fluffy German cakes or demonstrating brilliant life hacks; these videos aren't just for Pinterest.
How-to videos should educate users about ideas, tricks, quick, easy, and simple lessons. Think multiple-layer dip compared to beef Wellington from scratch. Such videos will be easy for your audience to follow. However, people will also try them out later.
Your content should be dynamic and flexible enough to fit into a short video. This is how it will perform better. Moreover, you can use video editing apps to speed up the visual of the video. How-to videos are a unique way to promote your product. Your video will not become heavy-handed. We have seen companies posting various how-to videos. Sometimes they post ten different ways to tie hair. Therefore, it seems practical, offering value while still promoting the product.
5) Appeal to Emotion
Emotions in video marketing play an essential role. Emotions make people take action. Therefore videos that influence users' emotions can resonate and hold with the people who watch them. Do you want to convince people to watch your videos? Appealing to viewers' emotions also boosts the likelihood that people will interact with your content.
Do you want to maximize the emotional impact of your content? Start incorporating voice inflections or subtle changes in facial expressions. However, this makes videos feel more natural. You can also deliver a powerful emotional punch in a limited timeframe. Are you ready to take your videos to the next level?
Do you need ideas for emotional appeal? Are you confused with the approach? We have a perfect solution. If you are trying to evoke strong emotions in your video marketing, you need to add a few elements. Such elements include language, background music, and fonts. Plus, happiness counts as an emotion you are planning to evoke in users. Showing unique or inspirational content is a great way to mark an impression.
6) Attract Attention in Busy Newsfeed
Do you want to grab customer's attention in a busy news feed? Several businesses rely on dialogue or music to influence their audience. Alternatively, even without sound, you can still capture the viewer's attention.
Your video has to be visually attractive. According to the study, 85% of Facebook videos are watched without sound.
Tips: Add contrasting, vibrant colors; choose an image for the first frame your followers will react to; add interesting captions after the video starts, and don't forget your hooks.
Get ready for outstanding and result-driven video marketing and motion graphics services.
7) Show BTS
Do you know the reason why users follow a brand? Well, it's because of the illusion of transparency. People assume they're getting to understand what your brand is and what it promotes. However, the videos that take users behind the scenes are practical brand-building tools.
Moreover, adding BTS in your video marketing increases brand loyalty. This follows the same method as storytelling, where users can interact with real people. Behind-the-scenes looks can improve brand familiarity and commitment, which are tremendous benefits.
8) Fine-tune Your Video
Do you want to make your videos engaging and interactive? You can use video editing tools to enhance the quality of your video or make it more interactive. Because the competition for video views is rising, taking advantage of video editing tools can give you a competitive edge.
From where can you get video editing tools? Some video editing tools are available on a social media platform. Have a look at Snapchat's photo editing features and the capability to insert captions or subtitles on Facebook. Do you want to know about Instagram? Instagram lets you stop and resume while filming and delete frames of video.
Do you want to know about off-platform video editing tools? There are various off-platform video editing tools. However, these tools will serve a variety of different purposes. Software like Lightworks allows you to add voiceovers and background pictures or delete sections of video. Moreover, you can upload these videos to various platforms. Apps like Lapse It can transform your videos into time-lapse or slow-motion clips.
9) Run Video Ads
Consider sharing video ads with targeted audiences, including relevant ones. Target users whom you haven't already connected with on social media. Social media platforms have ad objectives that increase video views and engagement.
However, Pinterest's promoted pins don't have a Video Views objective. But you could enable a video pin to boost visibility.
Furthermore, you can test your videos on your existing audience before running an ad campaign. If you get positive results after testing, then your video ad is successful. There are many social media marketing agencies online that provide the best video advertising services to lead your audiences to conversion.
10) Add a Logo
Why do you need a logo in your videos?  Why is logo important? Well, most companies want to promote their brand at every opportunity, and social videos are no exception. When users share a video from your brand's page or profile, some of their followers may not recognize it's from you.
You should include your logo in your video to provide instant brand recognition. However, this helps users associate the content with you.
Choose a modest and discreet logo and place it in a corner where it will not interfere with the rest of the video.
11) Emphasize On One Message
Concentrate on a single message or story per video. This allows you to keep it simple while also making the video short enough to perform well on social media. Every video should have a single point and only one point.
You don't want to overcrowd your video with stories, points of view, or messages. Always include a single call to action at the end of your video. If you insert something to the video that does not contribute significantly to the CTA, delete it and insert it to a different video later.
12) Never Forget Good Sound Quality
The video sound quality must be high for viewers who will be listening to the video with sound. Everyone has seen videos where the sound fades in and out, or there is a lot of disrupting background noise. This undermines the credibility of your video and your brand.
Poor sound quality detracts from your message and causes users to click away. Moreover, you can make high-quality videos with today's technology and your smartphone. Make sure there is as little background music as possible in your video footage. Remove any distracting or out-of-place noises. Even minor noises, such as the air conditioner turning on or a fan spinning, can degrade sound quality.
Furthermore, check the audio quality first if you're going live on Facebook or Instagram. First, record a short video on your smartphone and listen to it to ensure that everything is working correctly.
Author
Anna is an experienced marketing manager. She has extensive experience working with Ranked no.1 Dallas SEO Companies. She closely studies the brand's overall persona and comes up with an effective and result-oriented marketing plan accordingly. Anna ensures all the marketing campaigns are compatible with brand and audience. We are highly impressed with her marketing strategies.
Tags In