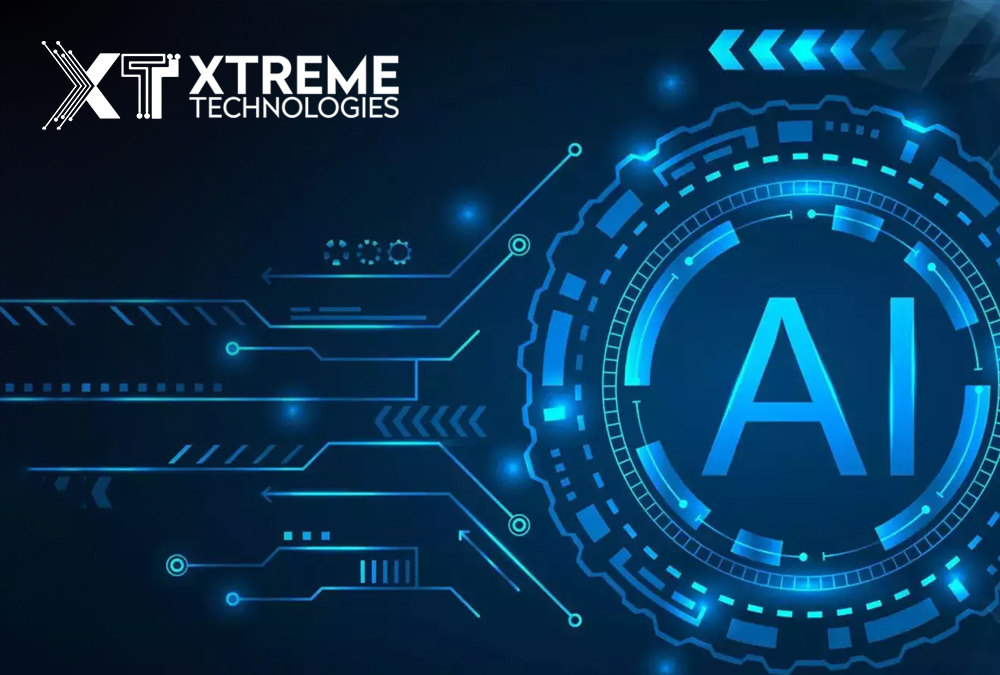 Top 12 The Best AI Tools for Business in 2023
Published on: February 07, 2023
Artificial intelligence tools can help businesses save money, increase customer satisfaction, and improve productivity. AI tech can crunch huge chunks of data and deliver actionable recommendations in real-time.
Among the top AI tools for business is Timely, which helps businesses organize their work schedules by automating time tracking and generating balanced timesheets. It also analyzes each employee's time and gives them personalized suggestions to manage their tasks better.
Here are the top 12 Artificial Intelligence Tools for Business in 2023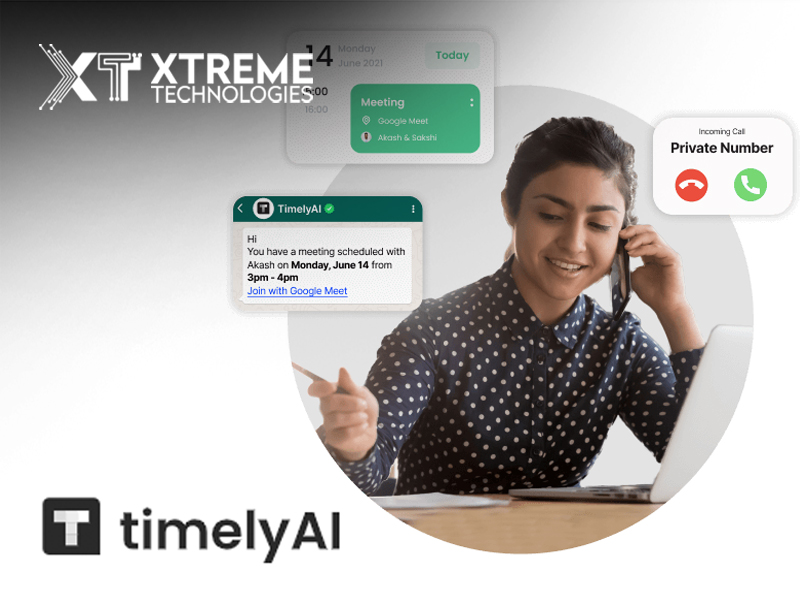 1) Timely
Timely is an AI-based business tool that helps businesses shorten the time spent on time tracking and timesheet compilation. It analyzes recorded information and generates draft timesheet entries, enabling team members to focus on other tasks.
It also allows teams to control payroll, employee performance, and project management in a single automated environment. The software has features that help users monitor team performance in real time against key metrics such as billable percentage and capacity.
Timely's time tracking feature is a great way to stop billable time from falling through the cracks, and it can be used to report and invoice clients transparently. Its accurate company time data can also improve project rates and budgets.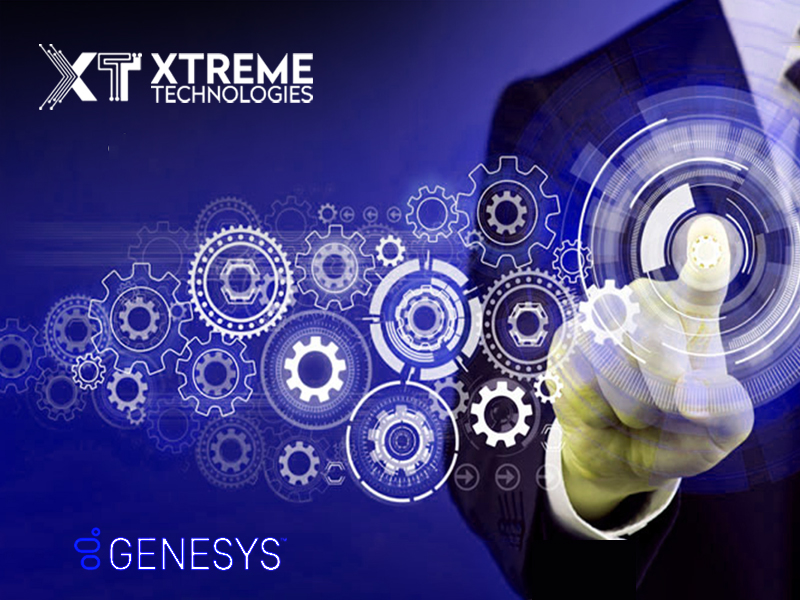 2) Genesys DX
Designed for always-on engagement in the digital age, Genesys DX combines the company's CX expertise with AI, predictive engagement, and dynamic knowledge base capabilities gleaned from the Bold360 acquisition that closed in May.
The solution offers human-like intuition in all digital engagement by connecting and refining data around each customer's unique journey. This capability enables companies to provide intuitive conversations, interactions, and experiences that customers can trust and rely on.
Genesys DX also includes intelligent routing, allowing seamless transitions between AI chatbots, agent chats, SMS, emails, and more to a knowledge base self-service option. This feature uses machine learning and predictive vs actual outcome analysis to improve its call routing strategy over time consistently.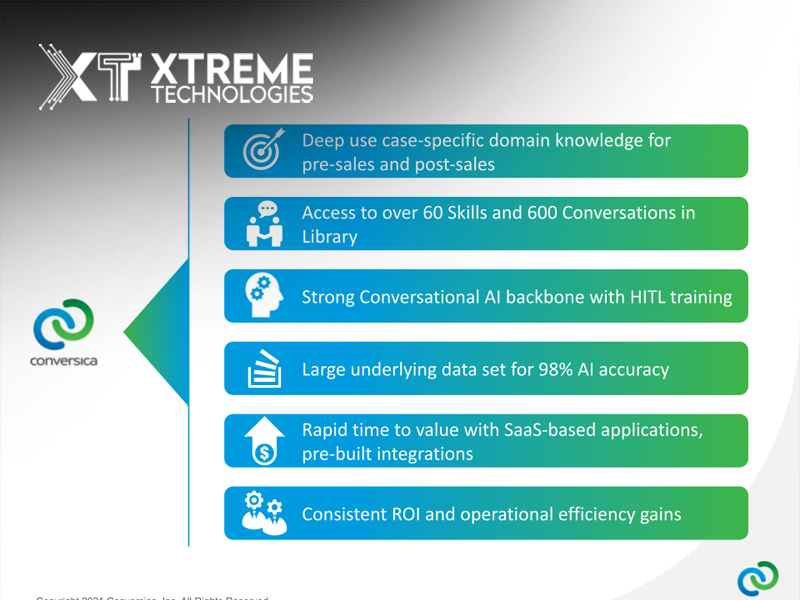 3) Conversica
Conversica helps enterprise revenue teams engage customers in conversations across email, SMS, and website chat. According, Its conversation automation solutions provide AI Assistants that help teams find new revenue possibilities while expanding workforce capacity, supercharging sales teams to operate at their best for a fraction of the cost.
Its intelligent virtual assistants (IVAs) communicate humanly through email, SMS text, and website chat and work with leads and prospects in English, French, German, Spanish, Portuguese, Japanese, and other languages. Its IVA software is based on an Intelligent Automation platform that leverages natural language understanding, natural language processing, natural language generation, deep learning, and machine learning.
4) Legal Robot
Legal Robot is an AI software that helps lawyers trawl through documents and extract key terms. The tool can analyze tens of thousands of documents in minutes and suggest any changes.
It is particularly useful in complex cases involving large numbers of documents. Lawyers are using it to save time and money.
The technology enables lawyers to analyze the contents of a document in seconds and then use that information to create a legal report containing suggestions. It also enables them to search for relevant precedents.
The idea of a robot lawyer is a promising one. However, Boston attorney Matt Henshon said that while it might be possible to use an AI in lower-stakes scenarios, it is unlikely to ever compete with the expertise of a human lawyer.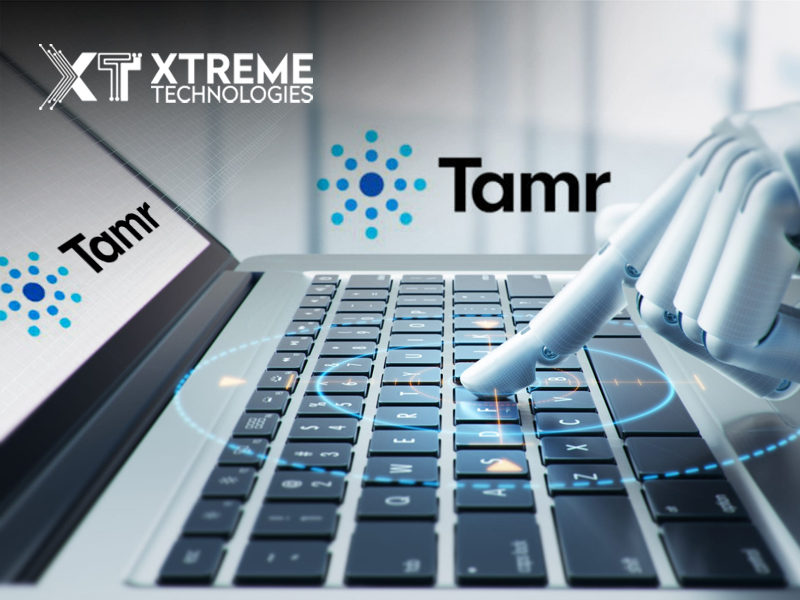 5) Tamr
Tamr is an enterprise data mastering platform that uses machine learning and human expertise to connect, cleanse and enrich diverse data at scale. It helps businesses stay ahead of their competition by providing a unified, curated data set for analytics.
Tamr's cloud-native platform enables organizations to use data product templates to consolidate messy source data into clean, curated, analytics-ready datasets that accelerate business outcomes. The company's patented solutions combine machine learning, rules, and human curation, helping organizations accelerate and realize value from data.
WCG, the country's largest clinical trial services provider, needed to connect and cleanse disparate data systems across its enterprise. It wanted a solution that could be implemented quickly and cost-effectively.
6) Algorithms
An algorithm is a step-wise representation of a solution to a problem. It takes input, then applies each algorithm step to that information to generate an output. According, Algorithms are part of computer science and can be used in various industries. Whether you're trying to figure out the number of times two numbers multiply or classify objects, an algorithm can help you do it faster and more efficiently.
however, Although algorithms can be useful tools, they pose privacy and security concerns. Organizations should be aware of the potential risks posed by AI-powered tools and take steps to mitigate these issues. When using them, they should also consider accuracy, fairness, safety, and transparency factors.
7) Scalenut
Scalenut is a content writing tool that helps businesses create high-quality content in less time. It offers short and long-form content creation and several templates.
It also provides robust SEO features to help you boost your rankings. The platform combines AI and NLP algorithms to help you write SEO-friendly content.
8) Sage AP Automation
Sage AP Automation is an end-to-end account payable solution that relieves finance teams of time-consuming and error-prone manual tasks. Designed for ease of use, it eliminates the need to rekey data into ERP systems and increases productivity with AI-assisted invoice data collection.
AP automation software provides 360-degree visibility into your entire AP workflow. You can set up 2 or 3-way matching, integrated purchase requisitions, and customized channels that reduce approval delays.
9) Augmentir
Augmentir is a platform of AI-powered connected worker tools designed to help industrial companies improve their frontline workforce's safety, quality, and productivity. It combines digital workflows, remote collaboration, and training with insights driven by human activity data.
The company provides a drag-and-drop authoring tool that helps move businesses from paper instructions to fully augmented work procedures. It uses AI to personalize these work instructions for each worker dynamically.
10) Zenefits
Zenefits is a powerful platform for small businesses to manage payroll, benefits, tax forms, insurance, and compliance. It has a wide range of features and offers an affordable plan.
Zenefits helps manage employee performance with a module that makes it easy to create, schedule and complete employee reviews. There are also templates for setting goals and feedback.
He is an extreme, unhinged, and impetuous character, unpredictable and sociopathic, with a propensity for violent outbursts and destructive rampages. He is considered one of the most chaotic protagonists ever created in the Grand Theft Auto series.
11) X.ai
X.ai is a business-centric AI personal assistant that helps users schedule meetings and appointments. The platform also takes care of follow-ups, reminders, and cancellations.
The Business Development Service uses an AI-powered agent called Amy or Andrew to schedule meetings. It saves user preferences like meeting duration, location, and contact info.
12) Jupyter Notebooks
Jupyter Notebooks are a popular web-based programming platform for data science and machine learning. They allow users to work with code, output, and visualizations in real-time.
They also allow users to write blocks of text (using the Markdown syntax) for presenting and explaining their work.
Data visualizations can be rendered within a notebook using modules such as Matplotlib, Plotly, and Bokeh. These can be embedded directly in the notebook or written to external files if required.
Conclusion
Whether you're looking to boost brand awareness, improve customer satisfaction, or increase business efficiency, artificial intelligence (AI) marketing tools can help. These tools can crunch huge chunks of data to offer quick insights and implement the most effective strategies for your business.
FAQs About Business AI Tools
Q1) What is the Most Advanced AI Software?
Artificial intelligence software has been around for decades, but it has become increasingly powerful with advancements in computing power and machine learning algorithms.
Artificial intelligence software helps businesses and organizations make better decisions based on accurate data. This results in increased innovation and improved business efficiency.
Q2) What Are Some of the Most Important Applications of AI in Business?
Artificial intelligence is already being utilize across many sectors, from healthcare to financial services. It helps firms improve their business operations.
AI enables businesses to analyze vast amounts of data. This information can be utlize to personalize marketing campaigns. It also provides a more tailored and effective customer experience.
Q3) What Are the Top Technologies of AI?
Artificial intelligence is a rapidly evolving field, and new technologies are always being spread.
Robotic process automation is an example of a discipline that uses AI to automate partially or fully manual processes that are repetitive and rule-based.
Q4) What is the Future of AI in Business?
Businesses embrace AI technologies to streamline processes, identify fraud, reduce cyber-attacks, and save on costs.
As AI systems continue to expand their capabilities, there will be a need for people who can build and maintain them. That's why upskilling is important.
Q5) How AI is Changing the World of Business?
In many cases, automation has removed the need for human intervention and reduced workplace hazards. This has enabled companies to increase production, reduce lead times and enhance product quality.
Businesses are also using AI to help them better understand their customers. This helps them offer more personalized and meaningful experiences.
Tags In