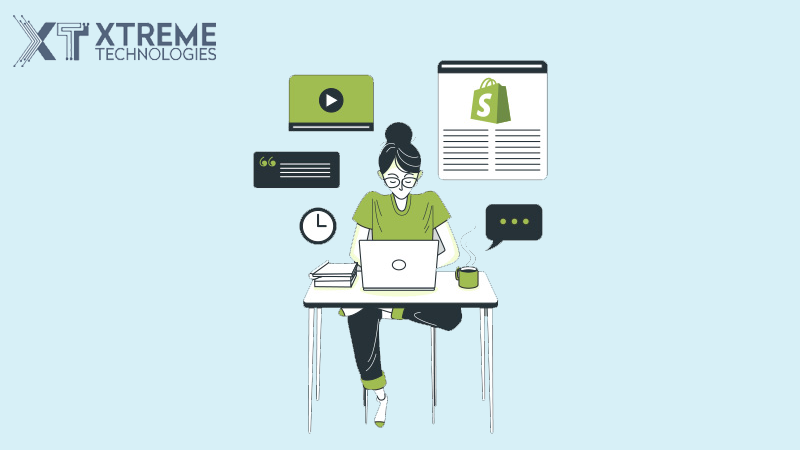 Master the Art of Blogging on a Shopify Store
Published on: November 18, 2021
I understand that launching an eCommerce store can appear to be a difficult task at first. But there are two fundamentals. First, you must generate initial visitors to your Shopify site, and then you must ensure that this traffic remains consistent. Blogging on a Shopify Store can drive the most desirable visitors to your online business, and happily, you won't have to spend any money on marketing. While most of you realize the value of having a steady stream of organic traffic, most of you are reluctant to add a blog to your Shopify websites.
Some of the most often asked questions about blogging on a Shopify store are as follows:
Would you host your blog on Shopify or WordPress?
Is it worthwhile to devote your time to keeping a blog, or will it be a pointless exercise?
What are some good examples of Shopify blogs?
Let's dive in
Consider WordPress if your whole business relies on blogging. And if you're on Shopify, don't overanalyze anything; run it through the built-in Shopify blogging system.
If you genuinely don't know or are seeking to over-optimize your future outcome, do this instead: compose your first 50 blog articles from within Shopify's blogging system. If you still have a compelling cause to relocate the blog entries to a subdomain and operate it on WordPress, go ahead and do it.
Is It Worthwhile To Keep Blogging On The Shopify Store, Or Would It Be Useless?
This is a complex question that relies on your financing, marketing strategy, profitability, risk forecast, and other factors.
Simply put, most Shopify stores will profit from having a blog in the long term. Here are four instances and advice, one of which should apply to you.
If you have a new Shopify store and no money for sponsored advertising, you should concentrate on blogging.
The majority of Shopify stores sell highly graphic products. Products that folks like to look at. As a result, paid ads are the primary approach to getting traction early on. Advertisements on Instagram, Google Shopping/Product Listing Ads, retargeting ads, and so on.
However, if you have no advertising budget, your only options are inexpensive social media, brand awareness, and the sweat equity you could put in through blogging.
You don't have many choices here, so get to work.
High-Growth:  Put Blogging On The Backfoot If You Have A Shopify Store With A Sponsored Advertising Budget.
Keep your foot on the gas if your business is flying off and you're getting fantastic ROI from paid advertisements, email, and paid media.
Blogging seems to have a much longer feedback cycle and takes far longer to get going. So while your business is snowballing, you must concentrate on scaling with sponsored ads. This is how you will adapt and respond quickly, producing the income you need to keep fuelling your business until it reaches a plateau.
You should not wholly disregard blogging. It may be a fantastic way to engage with current consumers, make announcements, and display your individuality. However, for a traffic-generating goal, you'll have to spend a significant amount of cash up front, as well as human resources, and the reward will be significantly slower. That being said, if you find paid ad prices in your market rising and gaining clients getting more expensive, you should begin establishing the foundation for blogging in preparation for growth shortly.
When It Comes To Complicated Or Pricey Products, Blogging Should Play A Key Role.
Inbound marketing and SEO are more effective for complex and high-ticket goods & services. This is why legal professionals hire a lot of SEO Dallas experts but not local coffee businesses.
If you're taking profits items that are sophisticated, you should incorporate blogging and instructional videos into your approach from the start.
Show Up The Blogging And Content Marketing When A High-Growth Brand Has Matured In A Market With Competition.
Casper is the most outstanding example of this. The DTC mattress industry has flourished, driving paid ad rates skyrocketing, sometimes to completely unprofitable levels. Casper recognized this truth and has raised their time and efforts invested in blogging and link development through content marketing.
Casper benefits from more "free" organic traffic, which has a longer life span and a considerably greater long-term ROI. In addition, they can increase their engagement rate in the "sleep" discourse by increasing their blogging intensity and collecting backlinks through content marketing efforts.
Blog Examples on Shopify
Here's a brief rundown of some of my favorite Shopify blogs. However, these blogs publish quality content and are gaining traction through organic (SEO) traffic.
Bulletproof
Bulletproof is a community, not just an e-commerce company. Okay, that's a little corny, but they've developed a massive brand for themselves, beginning with content.
Given their limited space, there seems to be a story to cover because there is so much information, confusion, and every day looking for health topics.
They present new ideas and explain concepts thoroughly, boosting the confidence of their readers.
GymShark
Gymshark is an ordinary blog example, but considering the recent exposure they've received, it's worth checking out.
Their blog contains a combination of how-to articles, product launches, and corporate updates. This blend is a fantastic example for most Shopify brands, as it makes use of the blog for a variety of purposes.
The Best Traps Workout to Build Larger Trap Muscles is their most popular post, bringing in between 5,000 and 20,000 organic views every month.
The post is informative and includes some excellent gifs, but they could do a fair bit better. The blog's design is odd, and they could go into further detail if they were truly interested in ranking #1 for "trap exercises" rather than #6. The current top-ranked article on Man of Many contains 17 activities as well as other instructional videos.
Gymshark's blog, I believe, is now in paid ad scaling mode, so it's on the backfoot.
Alo Yoga
I'm a big fan of the Alo brand and have worked out at their L.A. facility several times. However, they've abandoned their blog, which hasn't been updated since July 2019. They're doing OK, but it just serves to show that even the leading companies don't always pay attention to the blog.
This is also an example of a corporation with an excellent reputation that doesn't need to rely on its blog for traffic generation. But keep in mind that you're not Alo. You can ramp up the CAC to 100 once you're making profits on $128+ yoga pants and $180/year online yoga lessons!
There is no one-size-fits-all solution or method that works for everyone. Small business ownership would be much more difficult if there were.
Before selecting where your blog will fit in a line, look over your goals, approach, team, and abilities to establish and commit to a blog. At the very same time, there's nothing like getting your feet wet and flexing your blogging muscles. It's far better to construct it before you require it.
So when are you going to start your Shopify blog? Let us know in the comments below.
Author Bio
Limi is a writer that specializes in digital material. She has been expanding content marketing and Dallas SEO services for clients with her head down. Limi is a sporadic surfer, novice yogi, and a sucker for planned travel tours.
Tags In