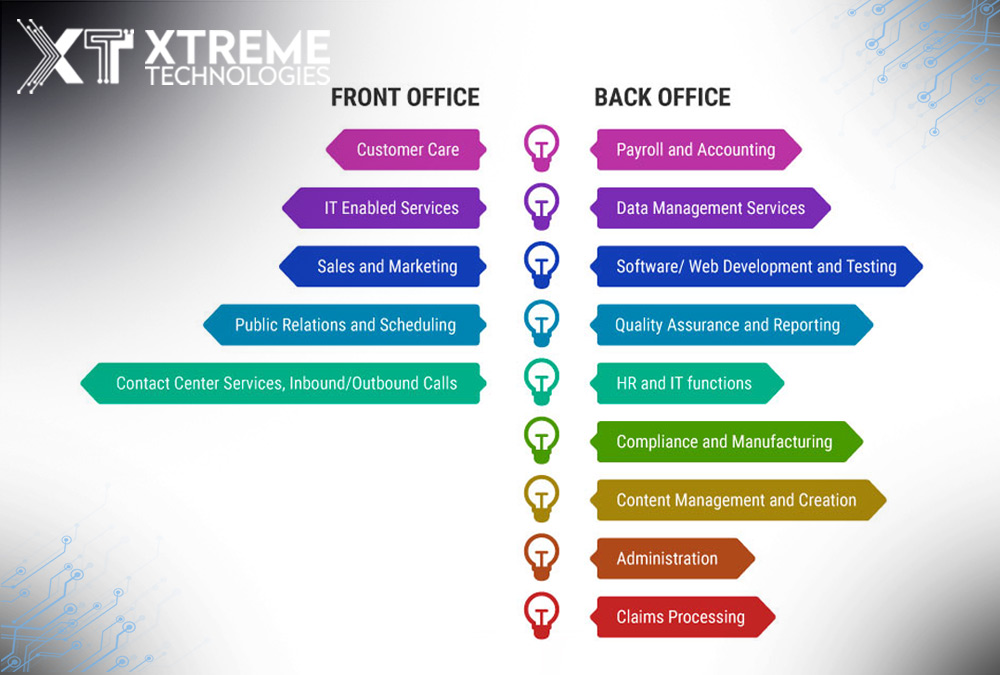 Business Process Outsourcing: What is Front Office Vs Back Office
Published on: July 26, 2022
The global business process outsourcing (BPO) market continues to expand. Business Process Outsourcing is contracting non-core business processes and operations to third-party vendors. Tech, IT and development IT outsourcing involves delegating network management, web and app development, and cybersecurity protection to IT firms in different countries. All the companies have started to grow and hire people for such back office jobs. So, if you are a person who wants to do back office jobs and data entry work, then you are at the right place. In this blog we will tell about the difference between front office and back office in BPO.
Front Office Business Process Outsourcing
Front office BPO refers to outsourcing client or customer-facing services to external businesses or third-party vendors. These services include sales, marketing, customer service, tech support, and anyone who interacts directly with customers. In this regard, many management positions are technically front office because they are responsible for dealing with issues that staff do not have the skills to handle. Through this, you stay in direct contact with the customers. These functions are inherently client-facing, potentially affecting both revenue generation and reputation.
When strategically dividing critical business processes between in-house and external workforces, a company benefits from access to specialized talent and reduced in-house costs. We ensure that external workforces will work efficiently and understand company procedures; what may engage third-party vendors to assist them in their work.
Front office roles and responsibilities
Customer Care
IT Enabled Services
Sales and Marketing
Public Relations and Scheduling
Contact Center Services, Inbound/Outbound Calls
Back Office Business Process Outsourcing
The function of back office BPO is to contract the workforce for the services rendered to the external client. These include management and support personnel in the accounting, IT, supply chain, HR, internal communications, etc. This form of outsourcing continues to branch out into other outsourcing types, including IT-Enabled Services (ITES) outsourcing, legal process outsourcing (LPO), and knowledge process outsourcing (KPO).
Many operations are often outsourced due to the lack of technical knowledge required to perform a service that does not require you to face the client. Paralegals, IT technicians, accountants, and more are examples of outsourced positions due to the technical complexity and skills required. Back Office Services provide businesses with a workforce with good knowledge and specific skills that do not rely on in-house infrastructure.
Back office roles and responsibilities
Payroll and Accounting
Data Management Services
Software/Web Development and Testing
Quality Assurance and Reporting
HR and IT Functions
Compliance and Manufacturing
Content Management and Creation
Administration
Claims Processing
How Do You Develop an Outsourcing Strategy?
A healthy partnership between you and your outsourcing firm is essential. Be as insightful as possible about your needs. Back-office functions are not all worth outsourcing, as we discussed earlier. Make a list of the tasks that need to be delegated and the ones that should keep in-house. Outsourcing specific processes decrease the value and uniqueness of the process. Clarify your expectations of your partner. When it comes to back-office outsourcing, there is no room for compromise. The most detrimental thing you should avoid for cost savings is sacrificing the quality of service. In the long run, this will only result in higher expenses. Ensure that your back office is a strong foundation for your front office.
How do you develop an outsourcing strategy?
There are some strategies you can use to reduce costs by outsourcing. These strategies include:
Determine if offshore workers make more sense than local onshore bases that may cost less to train.
The staff as needed.
Transfer some of your in-house team's tasks to an outsourcing firm.
Use online conferencing software instead of traveling to your partner firm.
Choose a country that gives you a competitive advantage in a particular operation by outsourcing.
Build a better relationship with your supplier and negotiate the price.
Final Result
We need to decide which of both the front and the back office might be easier to outsource. It is why the best business leaders choose to outsource many of their back and front office functions to outsourcing partners. These partners offer businesses their experienced professionals and advanced tools to get work done efficiently, allowing them to focus on more important matters. However, building teams to accomplish these tasks can make it difficult for businesses to focus their resources on their core competencies.
Tags In