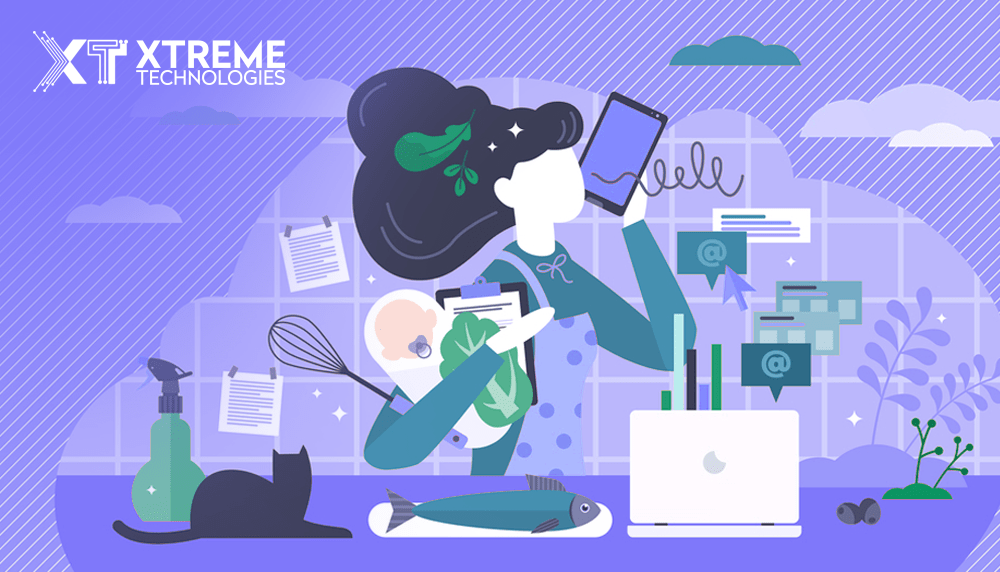 10 BEST JOBS FOR MOMS
Published on: March 08, 2022
So, if you are a mom and you have big dreams, you want to be financially independent and help your family. Still, you also have to take care of your household, kids, and all the chores around, or you don't have any college certification or degree to pursue a career. Or even if you do have one, you can't afford to do nine to five jobs and bear a daily hustle to get to a workplace and get back home after a full day shift. So not only have you eagerly wanted to move up financially but also worried about any compromise that might hurt your kids' upbringing.
What is better than a fixed payment that you might get by a tenth of every month after taking a whole month's toll and stress? Even giving a hundred percent might not get you anywhere at the end of the day.
So, what is the solution for all these concerns and needs?? Do you want to earn from the comfort of your home?
Following are the ten best jobs for moms which they can do from their homes; the best part is flexible timings, independent working hours, better pay off, and a lasting career. Besides, it's more like establishing your own business.
However, it does not even need a degree or certification; you can take a few weeks online course or learn it free from google or YOUTUBE.
There are many things we do at home that could amuse the audience if presented in a video.
If you already have a skill, you can start right away, but if you don't have one, the time is not too far when you can support your family economically. Importantly, to give you and your family a better lifestyle, learn a skill and work hard on it. It will start generating income very soon. Move forward in life with a realistic approach. Learn innovative skills; it's not difficult to earn in six digits.
Here are 10 Great Work-at-home Jobs for Moms
1) Amazon Affiliate Marketing
If you spend few hours every day on different websites on the internet, then Amazon affiliate marketing is best for you. The only thing you must do is find customers for different products. Manufacturing and delivering the product are the supplier's job; you would get your commission on every sold product. It's not a joke; search it on google. You will find out that eighty-one percent of world brands earn through affiliate marketing. Amazon has the most successful affiliate program because it sells sixty-six thousand products from hundreds of companies every hour.
2) Bookkeeping
Do you want to earn a hundred thousand bucks every month? However, it is the accountant's job to keep a record of company accounts. He counts different amounts every day, in millions, but gets a fixed salary that doesn't even satisfy her needs. So companies get huge benefits but poor accountants…
Let's take you to an accountant's paradise. Learn 'quick books.
Do bookkeeping for small and medium-size businesses and earn as much as you want. Moreover, you are free to choose your work hours. Its orders are lengthy, and people buy your package for at least six months or a year. Work with constancy and hard work; no one can stop you from economic growth.
3) Content Writing
Nowadays, the world pays the desired sum for good content on freelancing websites. All these motivational speakers, YouTubers, and many other professionals hire content writers to write their content. Therefore, my sincere advice is for you to adapt content writing. Neither this skill is difficult nor much time taking. Don't let your talent die inside you. With just one laptop and Microsoft Word, you can win this war of unemployment. The skill of good content writing is a trademark for any influencer or businessman.
4) Graphic Designing
In the world of the internet, how can one win attention so fingers stop while scrolling? But, What is this magic? So, my dear lady, graphic designing is the magic. Graphic design and motion graphic services are booming these days.
If you are creative and you have an excellent aesthetic sense, you can quickly learn graphic design. By learning graphic designing, you can help businesses with their marketing designs or logo designs; you can also provide many other design services and earn money. A graphic designer designs posters, banners, flyers, business cards, seminar logos, event logos and creates graphic content in videos. To become a graphic designer, you need to get adobe illustrator training.
5) YouTube Has Many Jobs for Moms
So, I ask many people,' dude, you kill time watching videos, earn from YouTube.' YouTube is not just for actors, models, and cooks. Do you like gardening? Grow new plants, make a video and earn.
So, do you have a good sense of humor? Are you witty? Record the clown that's inside you and earn dollars. Do you get bored when your kids or hubby watch soccer for long hours, just capture their reactions, upload them on YouTube and become wealthy?
You weep with heroin in the movie, stop whining, make a spicy movie reviews channel and earn money.
If you think you are the laziest person and find hacks to do it with shortcuts. Make a video of these hacks and earn money.
Though, you just need to learn video editing, video uploading, and channel monetization skills.
6) Virtual Assistant
Don't follow others, do something different. Other than conventional professions, let me tell you one of the unique ways for moms to earn from home. Become an Amazon virtual assistant. Businessmen on Amazon are always looking for people who can do a following for their online stores.
Product hunting
Product sourcing
Product management.
They pay well for these jobs to virtual assistants.
This is a complete online job. I would say a perfect part-time work for a mom who wants to earn from home.
7) Microsoft Excel Expert
Are you sick and tired of being used less? Do you face people without confidence because you have lost trust in yourself? Do you think you don't have any way or skill to earn money? Here comes the help
Microsoft Excel is the most essential skill for any professional, but every professional and company needs professionals. Many virtual businesses hire part-time workers who know how to work on this crucial software. Even if you are uneducated, you can learn it thoroughly in eight to ten days. You must learn some specific functions of excel with mastery, and believe me, you can become the apple of an employer's eye with this skill set.
It could be the best part-time job. You can offer these services
Pivot Table
Data cleaning
Data arrangement
Invoice making
Quotation making
Pie chart
Dashboard
8) Facebook Marketing
Do you spend a lot of time on Facebook? Have you ever thought of earning through this global application? Facebook marketing is the highest selling skill on freelancing websites like Upwork and Fiverr.
People earn a thousand bucks monthly by generating engagement and sales leads. You can do it as a part-time job as well.
Almost all companies hire social media managers and pay them highly for this job.
You often come across pages with celebrity names. To run and promote these pages, they hire social media managers who are experts in Facebook marketing.
In addition to all this, you can also flourish your business by learning Facebook marketing. Afterward, you can sell anything, be it jeweler or dippers. You can market and sell your product through your Facebook page.
Moreover, if you don't do business, but you have any skill like poetry, comic, or cooking, you can become an influencer and attract sponsorship by increasing the number of followers.
9) Shopify Virtual Assistant, One of the Best Jobs for Moms
So, I know all moms are fond of shopping. Aren't they? Do you have a craze for online shopping? Are you always into brands' websites? You watch new product pictures repeatedly. When you zoom in; you read the price, go through the description. Indeed, you become desperate and unhappy.
You don't know why?
Let me tell you.
There is a hidden shopkeeper inside you who wants to make her online store or maintain online stores by becoming a virtual assistant. Therefore, learning Shopify is the best cure to this craziness and one of the best part-time jobs for moms. So, being a Shopify assistant, your job is to
Update the store
Receiving customer order
Providing order list to supplier
To provide the best customer service
You will earn a lot from this. It's not your job to take or deliver goods. You would just look after the Shopify store. A third party will cover rest. Shopify offers the best services in these terms. You can earn more than a huge shop just by working on your laptop a few hours a day.
10) Crypto Currency
The emerging world's currency is digital or cryptocurrency. Its value has climbed up in recent years, where few currencies have left behind gold in value. Therefore, many believe that these are currencies of the future, and billions are investing in them. There is a huge fluctuation in digital currencies. If you know how to trade online, a small investment can make you rich. Many have become a billionaire from crypto and forex trading. However, you can learn about digital currencies and their trading from the internet.
Author Bio
Lucy is an eCommerce manager and motion graphics service provider. He also looks after the company's website, mainly the PPC marketing, advertising, a nd content components. She creates and implements online marketing strategies. Lucy has a passion for running online stores and providing business consultation services.
Tags In