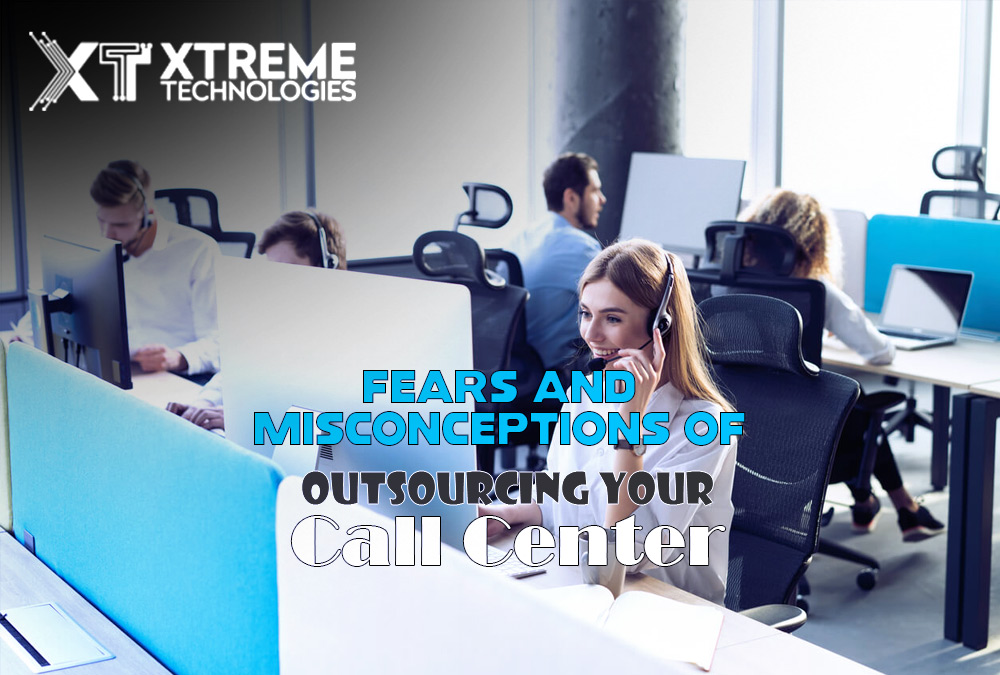 7 Sure Fears and Misconceptions of Outsourcing Your Call Center
Published on: June 13, 2022
Over the long term, Customer Service has addressed various queries from business leaders about outsourcing. Misleading decisions and fears associated with repeated outsourcing prevent companies from experiencing the benefits of an essential organization with the right call community merchants. The 7 most common Misconceptions of Outsourcing Call Center can range from concerns to handling the transfer process. Will any business fail to maintain a grip on client experience? How can a business redesign a tough call? Can call quality be compromised? Separating the truth from the fiction helps to clarify what can be expected from a great seller.
Is the fear we have right or wrong? We will guide you through the best outsourcing guide. So let's see
1.      Understanding Post-Contract Action and Decision
According to the report, the problem that arises in outsourcing is that you do not understand the rights of action and decisions after signing the contract. Clients and service providers sign agreements but are not ready to work together. As a result, there is a lack of services, and due to this, implementation work also takes a lot of time. And the effect is that both the client's stakeholders and the service provider remain frustrated, and the entire business schedule that should have been reaped is delayed.
According to BPO Agency, Lack of understanding of rights of action and decision is considered the biggest problem. Because with outsourcing, emotions and behaviors are likely to change. The main reason for this is that the problem arises when new processes and decisions are not well communicated. For example, who can request services with the new outsourcing model in the client organization? Does it go directly to the supplier, and if so, how? Need new software tools/systems? What documents or justifications are required to apply for the service? Who decides? What about "emergency" change requests - are they processed immediately, and what is an "emergency"?
2.      Lack of Support from Client Leaders
Another major issue with outsourcing is the low level of purchasing by senior client leaders who receive outsourced services. It can lead to active or passive resistance for the entire outsourcing model. If you don't opt out of outsourcing services, it can ruin your business. Many customers want to use our services in the future but do not participate properly in outsourcing evaluation or do not know the importance of outsourcing. Because of this, they have to bear two disadvantages:
So customers are usually unprepared for new changes in outsourcing. The evaluation and negotiation team cannot fully represent the unique services of a particular unit in the organization.
Why Do Call Centers Outsource?
3.      Poor Understanding of the Agreement
Once the agreement is approved, both the client and the service provider have teams. Numerous partners are trying to deal with basic implementation exercises and development work. The client has a staff that is only learning the nuances of understanding, can be charged with the choice of genuine re-examination, and has an individual point of view that the expert What the organization should not do indefinitely. The service provider has partners who are similarly new to the exchange and sometimes have a point of view on "this is what we did in our last arrangement" without fully understanding the nuances of this particular understanding. Bring on what has been discussed. Significant numbers of newcomers, coupled with the speed of implementation, affect the desired absorption period, resulting in uninformed views on both sides of the "what's in agreement."
4.      The Client Retention Team is Not in Place
With so many outsourcing bases, the absence of a clean feature/management group or a very small one. It causes problems in implementation because there is no one to "coordinate the traffic." And it's not easy for the team to deal with both volume and complexity. Clients often fail to conclude the organized / management group due to various factors, including:
All our energies and efforts are based on the terms of the agreement and the "deal" in terms of prices. No time and resources are provided for post-agreement issues. Clients can suspend staff decisions and transfers until they are convinced of the outcome of the outsourcing agreement.
5.      Lack of Skills in the Client Retention Team
Whether a client forms a retention group to reschedule and deal with ongoing tasks, the group may not have the appropriate skills for their new jobs. As data collected through TPI's Governance Benchmark data set shows, client-managed associations often appear to be:
60% of the staff who join the Administration Association have no review experience. 40% of clients in the benchmark did not make any basic preparations to deal with the assigned governance group agreement. Only 20% of clients think they provide adequate training to their administration group. Furthermore, under TPI consideration, most clients think only of the staff within their association and, as a rule, want to retain individuals who have the best specialized or possibly business knowledge.
6.      Poor Knowledge Transfer
One of these disadvantages is that outsourcing creates uncertainty for your employees and business people who serve the client organization. Due to this uncertainty, staff may leave the job and find another place before outsourcing is implemented. If staff does not properly motivate them or if service providers do not do the right thing by imparting knowledge, this can decrease service efficiency and potentially an operational risk.
7.      Failure to Meet Customer's Paint up Demand
Before you start outsourcing, the client team can reduce larger projects and higher costs. Based on these two things:
The client can wait for the expert's skills before the activities begin. Clients may limit their investment in their area for outsourcing. There are many call centers services providers and they are willing to offer solutions by businesses in a real or virtual call center environment. These services cover everything from answering phone calls to order processing management.
Final Result
It does not need outsourcing if a client achieves its own goals, such as cost, capacity, and capability. Outsourcing requires change. The first and most obvious change is towards internal and external service delivery. Over time, additional changes come from organizational strategy, leadership, available skills, technology, business processes, and regulatory requirements. These changes come from various sources: clients, service providers, or external stakeholders. As a result, acquiring the right to buy and sell and the rule is not a one-time event but a continuous process.
Tags In